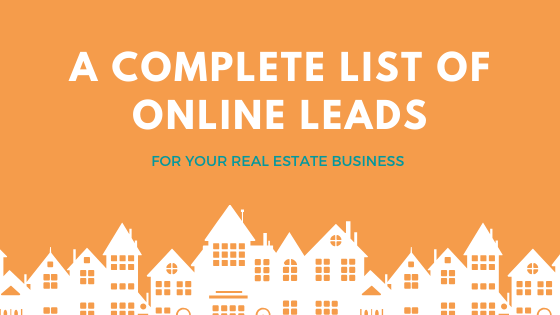 Real Estate Internet Lead Sources
Whether you are new or an experienced real estate agent, there may be many real estate internet leads that you are unaware of. I have created a list of online lead sources and the quality of these leads are listed in no particular order. Some of these lead sources require a monthly fee, some ask for a referral fee once the transaction is closed, some are pay per lead (PPC) and some just take your time or a proper squeeze page.
How can online leads help my business?
Adding internet leads to your real estate business can be a very successful strategy to growing your past client database in a fraction of the time. I would not ever recommend it be your only lead source. I typically recommend you prospect at least 3 different sources of business and all sources of internet leads would still fall under one umbrella, internet leads.
If you work internet leads correctly, you can create a met database for yourself faster. That is the ultimate goal, isn't it? From my experience, those that work online leads can build a past client database for themselves so by the time they are 5-6 years in the business, they have 200-300 person past client database. You will create repeat & referral relationships with these leads and ultimately get a referral network going for yourself and hopefully no longer needing internet leads unless you plan on building a team. This is a topic for another time.
Here is the list of internet based real estate lead sources.
Do note that I do not include real estate lead generation systems in this list. Most real estate generation systems generate leads from Google Adwords or Facebook PPC and that is the origin of the lead.
Google PPC (Pay Per Click or Google Adwords)
Google Organic (Create content on the web)
Facebook PPC
Facebook Organic
BingPPC
Realtor
Mello Home
UpNest
Zbuyer
HomeGain
Estately
Effective Agents
Fast Expert
Referral Exchange
Craigslist
Offrs.com
SmartZip
ReferralRail
Agent Pronto
Dave Ramsey – ELP Leads
ExpertHomeOffer.com
Homes.com
LandandFarm.com
LeadsToday.com
Qazzoo
Veteran's United
RedFin Partner Program
Bold Leads
Prime Seller Leads
Ideal Agent